Do you need Philips remote control codes for your Insignia TV? This page offers a variety of Philips remote codes for Insignia that are suitable for all types of universal remotes. A Philips universal remote can enable you to program multiple devices using a single remote control, saving you time and the expense of purchasing a separate compatible remote for your Insignia TV. Below, we have provided a comprehensive list of Philips universal remote codes, along with detailed programming instructions to help you set up your Philips remote with your Insignia device.
Philips Universal Remote Codes for Insignia TV:
Here, we have updated a wide range of Philips universal remote codes, including 3-digit, 4-digit, and 5-digit universal codes. These codes are designed to work according to the code list version of your universal remote, so please check the user manual of your Philips remote to determine which type of code it requires. Then, select a code from the list provided and begin programming the remote. If a code does not successfully program your remote, refer back to the list and try another code for programming.
0911
0520
0323
0115
0914
0213
0318
0247
0504
Philips Universal Remote Codes for Insignia Fire TV
Control all your entertainment devices, including your Insignia Fire TV, using a Philips universal remote. Similar to other devices, you need to pair it with the universal remote control to operate all its features. The Fire TV codes are required for programming the remote control.
00545
02049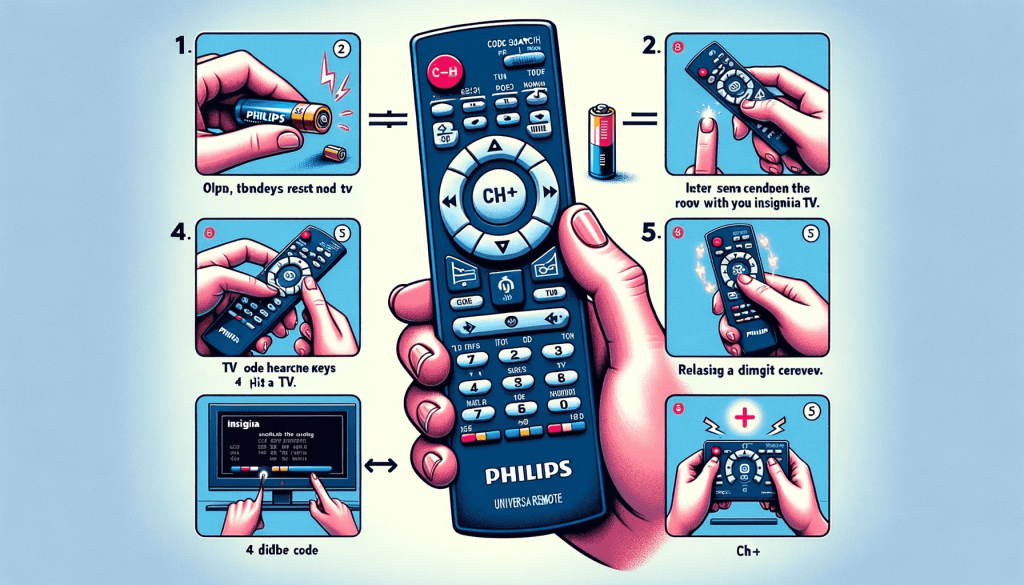 How to Program Philips Universal Remote to Insignia TV
Programming a Philips remote for an Insignia TV is easy with universal remote codes. If you've found working remote control codes, just follow the programming instructions given below to set up your Philips remote with your Insignia TV:
Ensure the remote you wish to program has working batteries.
Press and hold the CODE SEARCH key until the LED indicator remains on, then release the button.
Click on and release the desired mode key, such as TV, DVD, or VCR. The light indicator blinks and then remains lit.
Enter the 4-digit code from the available codes list. After you have entered a valid code, the LED indicator turns off. For an invalid code entry, the light indicator flashes.
With your Insignia TV device on, press CH+. If the device responds to your commands, no further programming is needed. If some keys do not operate your device, try alternative codes for your remote.
Final Words:
That concludes the instructions for programming a Philips universal remote control with an Insignia TV using the provided remote codes. You can find detailed guides for remote programming instructions and a wide range of universal remote codes for Insignia TVs. Let us know your views & suggestions about this article via the comment box available below.